Although the bathroom showers are relatively small in size, they play a significant role in the bathroom life. The quality of the showers directly affects people's bathing quality of life. Therefore, it is recommended that consumers purchase bathroom showers. Be sure to consider the following four aspects.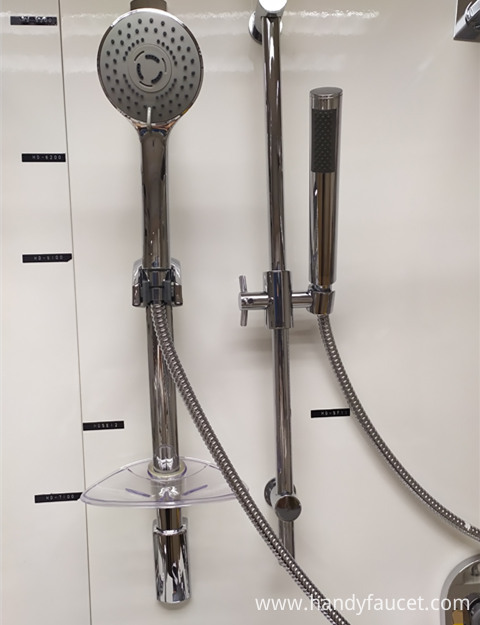 1, a look:
Look at the shower tube and the surface of the plating layer is smooth and smooth. This is because, in a wet environment such as a bathroom, the shower surface is generally chrome-plated, but it is also chrome-plated. The difference in processing is great. According to the introduction of the merchant, a good pipe body is made of copper material, and the surface must be polished, polished, dust-removed, nickel-plated, chrome-plated, etc. to ensure that it will not turn black and blisters in use. Generally, from the surface of the shower, the brighter the eye can see, the better the plating process is.
2, two grips:
Hand pipe body, determine the quality of the material. With the chrome-plated shower, some unscrupulous merchants will use the cast iron pipe to impersonate the copper pipe. A simple method of determination is to hold the pipe body by hand and release it after waiting for 2 or 3 seconds if the pipe body is cloudy. For a long time, it is very likely that it is a cast iron pipe. If the pipe is almost unchanged after the hand is left, it can be basically judged as a copper pipe. In addition, the sound of the copper pipe body is crisp and the sound of the cast iron pipe is boring. The percussion is also a method of determining the material of the shower pipe body.
3, three questions:
As the saying goes, amateurs look busy and insiders look at the door. The quality of the shower is good, and the most invisible places are the most important, so be sure to ask about the material and service life of the business shower switch valve. Shower switch valve core is made of ceramics with extremely high hardness after being burned through extraordinary technology. Its service life is up to 200,000 times of national standards. Therefore, it is not enough to pay attention to the low price or good appearance but ignore the inherent quality and give it to the future. Life is inconvenient.
4, pick four:
When showering is sloping out of the water during selection, if the water at the top of the nozzle is small or not enough, the interior design of the shower is very general. Even if there are multiple water outlets such as lasing and spraying, the user may not get corresponding The pleasant experience.
In short, in order to ensure the quality of the bathroom shower, it is recommended that consumers generally choose the production company with a certain productivity to buy a shower, but do not want to be cheap for a while.