With the development of science and technology, the traditional single Cold Kitchen Taps can no longer meet people's needs. The Kitchen Mixer Taps, which has both cold water and hot water and can adjust the temperature of water, are sought after by everyone and gradually entered thousands of households! So how install kitchen faucet? Handy will introduce it to you.
How install kitchen faucet
1, clean water pipe debris
Before installation, first close the main sluice, and then clean the debris in the water pipe. Especially newly installed house, there will be gravel in the water pipe to wait a moment to compare bulky impurity, to avoid the jam of faucet henceforth, guarantee water output of water pipe. It is recommended that before installation, the impurities in the water pipe can be flushed out. It can also be cleaned with a soft brush to remove dirty things, until the subsequent water becomes clear and clean. Before the next step of installation.
2. Install the Kitchen Sink Mixer faucets
Because the kitchen faucet is frequently used, it is easy to loosen when rotating, so the base should be firmly installed, so the lock nut should be tightened. In general, facing the left side of the faucet is the hot water supply pipe, and the right side is the cold water supply pipe. Except with special marks, do not install the cold and hot water supply pipes in reverse. Then put the copper buckle and rubber pad into the hose, and then connect the hose to the end of the sink. Then pass the rubber pad into the hose, pass the copper wire into the hose, and screw the faucet onto the copper wire. At the same time the copper wire should also be fixed firmly. Finally, put it into the interface of the sink, and then tighten it, and finally connect the same hose to the water outlet. The tools attached to the faucet should be retained for future maintenance. When disassembling and installing the inlet hose, do not wrap the sealing tape, do not use a wrench, directly screw it by hand, otherwise it will damage the hose.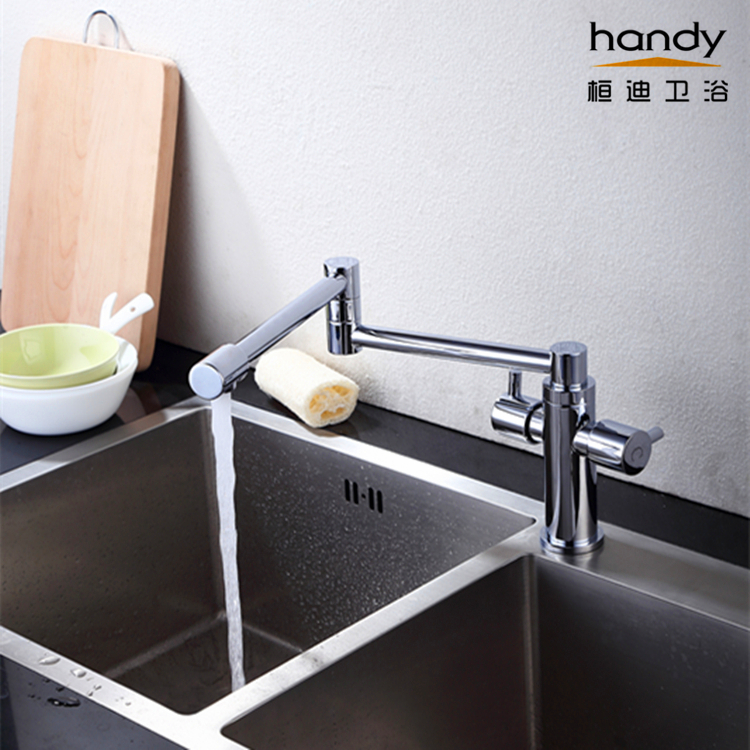 3. Follow-up matters
After the completion of the installation, the faucet should be wiped clean, and we should do a follow-up leak-proof inspection. When using faucet, do not force switch, affect the use of faucet not only, also have certain effect to its life. Handy's kitchen faucet accessories are complete, easy to install and come with a 5-year warranty , so you can use it conveniently and securely
, welcome to inquiry!
SHENZHEN KING OF SUN INDUSTRY CO.,LTD
Business Type:Manufacturer , Trade Company
Product Range:Basin Faucets , Basin Faucets , Bath & Shower Faucets
Products/Service:Flush Valve , Shower Faucet , Sensor Faucet , Kitchen Faucets , Wash Basin Tap , Bathroom Fittings
Certificate:ISO9001 , CE , Test Report
Company Address:FLATB,NO.1511,WENJINDU CUSTOMS BLDG.,DONGMEN, Shenzhen, Guangdong, China
Previous:
What kitchen faucet is best
Next:
What kitchen faucet to buy