After a busy day back home and walked into the bathroom with a tired pace, want to take a good hot bath to ease fatigue. But if you turn on the Shower Mixer and find that the water can `t flow out smoothly, what a terrible experience, so it's important to choose a good Shower set. How do you pick a Rain Shower Mixer? Handy shares "three tricks" for you!
How to choose Shower Mixer
1. Look at the bathroom layout
When choosing shower mixer, it depends on the size of the bathroom space. Can you visit our showroom or other physical stores to see if there is a suitable shower set? Reasonable collocation and location can make the shower perform better. Showers are generally three forms: 1.top spray+hand-held+Shower Faucet, 2.Hand-held+shower tap, 3.only one hand-held shower.
2. Look at the surface coating
Shower faucet coating in addition to affect the quality and service life, but also affect the peacetime cleaning. When choosing, you can watch its gloss and smoothness. When choosing, you can watch its gloss and smoothness. Bright and smooth shower faucets indicate uniform coating and good quality. Shower faucets of Handy adopt a 5-layer electroplating process to improve the finish of the surface coating. Not only is it beautiful, it is also easy to clean up scale and stains, and it also improves corrosion resistance. Still as new after a rigorous 48- hour salt spray test
3. Look at the spool
Spool is the core component that controls flow of water, affecting the use experience of shower faucet and life, good shower is use ceramic spool, which is high in hardness, smooth and frictionless. Switch can be twisted by hand when selecting. If the switch is quick and no blockage, it can ensure smooth and reliable performance during use.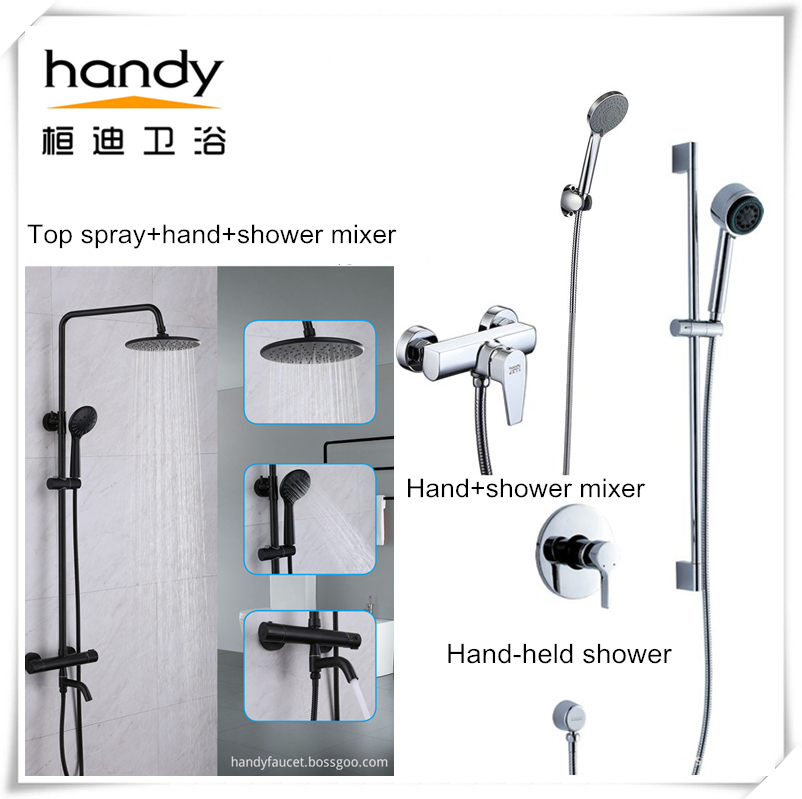 Handy's shower is designed with automatic mixing valve core;and has a 5-year water-proof warranty. There are round or square Shower Heads, hand-held showers,and Thermostatic Shower Mixer. It is made of high-purity brass by precision casting.The Shower rod is made of brass or stainless steel. The shower head is made of silica gel particles with deep anti-trust technology. Handy's Shower Mixer makes you feel happy physically and mentally, "bath" as you like. If required. Please contact Handy, and will serve you wholeheartedly!